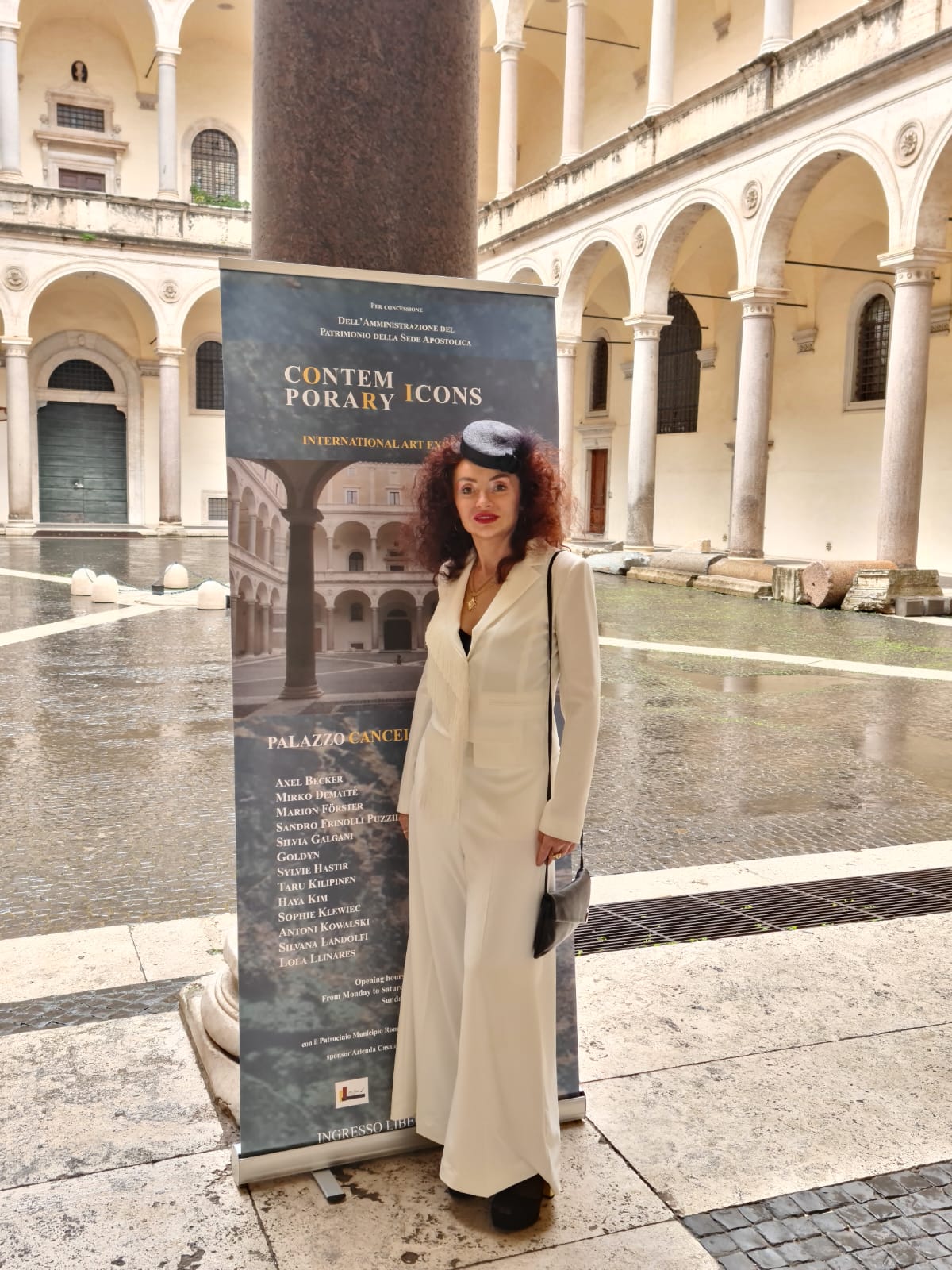 Palazzo della Cancelleria
The excibition in Cancellaria Vaticana was for me a very personal aspect in the history of my art. This was due to both the theme I prepared for this exhibition, as well as the place so associated with the church and Christianity. A beautiful palace belonging to the Vatican in the eternal city of Rome. The opportunity not only to exhibit my works, which are so personal, but also to be here and see my work in the extraordinary scenery of a beautiful palace, which is related to the history of the church, has become an extraordinary experience for me.
The series of artworks in the exhibition in Palazzo della Cancelleria is partly autobiographical. I was born in the famous Polish city  of Częstochowa. First of all, it is known from the Jasna Góra Monastery, where there is one of the most sacred paintings for Poles, a portrait of Mother of God from Częstochowa called the Black Madonna.
My childhood was at the turn of the 70's and 80's. It was the time of communist Polish. Religion was marginalized by the communist authorities, and in families where members held high positions, it was even forbidden. Living in a place so holy for the nation, however, due to the system of being cut off from God, with the prohibition of faith, religion, causes that man looks for answers, acts perversely. Such actions, however, after deeper reflection, bring us closer to God, if this contradiction is a search for faith and the essence of God. At the age of 25, after graduating from the Academy of Fine Arts in Wrocław, I went to Germany. I married a sculptor 43 years older than me.
Our marriage was, a meeting of two different generations of artists. Our life went on for 7 years in a house located in the forest, far from social life but in the immediate vicinity  of nature. It can be said that it was a kind of ascetic life. The distance from consumerism, everyday problems of society allowed me to look at life differently. But this idyll also had its dark side. The man I lived with had mental problems. I was abused, beaten and also used psychological violence on me – then I kept silent, hiding  it as an embarrassing secret. It is said that time heals wounds, and I think it is. After many years, it is time to show and reveal all this. It is not only my voice, but the voice of thousands of women in a similar or perhaps worse situation, people suffering physical and psychological violence. My works, ideas, visions are not the result  of joyful walks in the forest or park. The forest of Lower Bavaria has become a break from everyday life, society, addiction. The forest became a utopian place, a place between heaven and hell.  In the light of day, fairy-tale scenery, full of joy, flowers and beauty. At night, it is a habitat for monsters, nightmares and terrifying shapes.  I believe that these combinations of adversity have shaped my artistic perspective. I abandoned the conventions of classical geometry and the principles of art. In nature there are not many rules, life does not subordinate itself infinitely. Trees don't grow at ideal intervals, and every leaf is different. Life will not obey laws, life is law. 
When we hear about the tragedy of hundreds of thousands of battered women, when their right to education,
to a voice and the freedom is taken away. Here we must say STOP. In my work, a woman holds the most important roles, the highest socially, the most dignified. On February 26, 2023, Bishop Meier said at Augsburg Cathedral, "the future of the Church is feminine." I believe that not only  the church, but the whole world. Here  I wanted to convey a message to all women in the world:  Remember, you are  not alone, we are all with you.