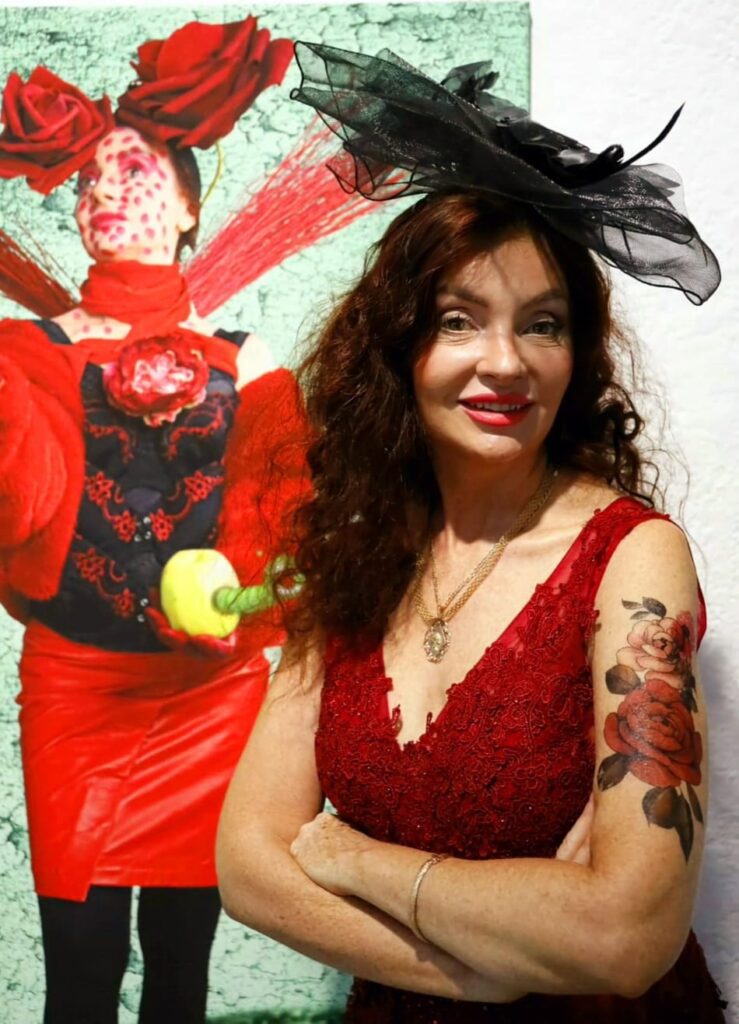 In a society in which stereotypes, prejudices, consumerism and conformism dominate, the German artist Katharina Goldyn has made her "New Man" the antidote to fight the reality of these days.
Comparing her artistic creation with an exLargely influenced by the Surrealist and Dadaist poetics, she wants to demolish the current values, habits and stereotypes in the hope of being part of a new world.
Therefore, through her art, defined as "visionary" by the artist herself, the concept of «material culture of our times» is no longer extistent. (…),
In Goldyn's utopia we also find ourselves in a world where the Christian tradition is re-imagined, the idea of the male apostle is replaced with "the female apostle" and the image of the Pope becomes the one of a female Pope, inspired by that legend – most likely originated in the orthodox antipapal world – according to which between 853 and 855 A.D. a woman named Giovanna led the Church of Rome.(…),
Goldyn, with her impact works, wants to convey a message, her dreams and her desires: in the name of freedom, carefreeness and spontaneity, she wants to tell us observers to teleport into a different world, a parallel universe where women hold new roles, a reality far from stereotyptes and preconceptions that allows us to escape from the problems and anxieties linked to all those clichés shaped by today's society.
Art curator Chiara Valaguazza
GOLDYN, P.h.D. (born in 1974) is a Munich – based artist from Poland. After graduating from the Institute of fine Arts in Czestochowa, Poland (1989-1994), sche continued her studio at the Wroclaw (Breslau) E.Geppert Academy of fine Arts (1994-2000); department of painting with Diplom and Master. Sche obtained a Doctor of Painting and Sculpture from E. Geppert Fine Arts Academy in Wroclaw (Breslau) in 2011. She lives in Munich , where she has one studio, the second one being in Breslau. She is owner and Professor of Studio Zeiler – one oft he oldest private drawning and painting schools in Munich, which has been in existence for 60 years.
www.studiozeiler.de
Statement
I was born in the famous Polish city of Częstochowa. First of all, it is known from the Jasna Góra Monastery, where there is one of the most sacred paintings for Poles, a portrait of Mother of God from Częstochowa called the Black Madonna. My childhood was at the turn of the 70's and 80's. It was the time of communist Polish. Religion was marginalized by the communist authorities, and in families where members held high positions, it was even forbidden. Living in a place so holy for the nation, however, due to the system of being cut off from God, with the prohibition of faith, religion, causes that man looks for answers, acts perversely. Such actions, however, after deeper reflection, bring us closer to God, if this contradiction is a search for faith and the essence of God. At the age of 25, after graduating from the Academy of Fine Arts in Wrocław, I went to Germany. I married a sculptor 43 years older than me. Our marriage was, a meeting of two different generations of artists. Our life went on for 7 years in a house located in the forest, far from social life but in the immediate vicinity of nature. It can be said that it was a kind of ascetic life. The distance from consumerism, everyday problems of society allowed me to look at life differently. But this idyll also had its dark side. The man I lived with had mental problems. I was abused, beaten and also used psychological violence on me – then I kept silent, hiding it as an embarrassing secret. It is said that time heals wounds, and I think it is. After many years, it is time to show and reveal all this. It is not only my voice, but the voice of thousands of women in a similar or perhaps worse situation, people suffering physical and psychological violence. My works, ideas, visions are not the result of joyful walks in the forest or park. The forest of Lower Bavaria has become a break from everyday life, society, addiction. The forest became a utopian place, a place between heaven and hell. In the light of day, fairy-tale scenery, full of joy, flowers and beauty. At night, it is a habitat for monsters, nightmares and terrifying shapes. I believe that these combinations of adversity have shaped my artistic perspective. I abandoned the conventions of classical geometry and the principles of art. In nature there are not many rules, life does not subordinate itself infinitely. Trees don't grow at ideal intervals, and every leaf is different. Life will not obey laws, life is law.
When we hear about the tragedy of hundreds of thousands of battered women, when their right to education, to a voice and the freedom is taken away. Here we must say STOP. In my work, a woman holds the most important roles, the highest socially, the most dignified. On February 26, 2023, Bishop Meier said at Augsburg Cathedral, "the future of the Church is feminine." I believe that not only the church, but the whole world. Here I wanted to convey a message to all women in the world: Remember, you are not alone, we are all with you.

Author's art studio in Munich

Prizes and Mentions
In 2015 sche won first prize in the 10-9 Nano Art Competition in Paris for her fusion of traditional imagery and new age visual semiotics.
www.art-nano.com
2021 – Second Prize for work Bride in exhibition Chromatic& Harmonies in Museum Crocetti, Rome, It.
2019 – The Prize Winner in category special prize for particularly original and extraordinary works for the ARTEDITION COMPLIMENT AWARD 2020
2018 – Honorable Mention Award for the high aesthetic, technical and creative standard of your work, Circle Foundation for the Arts , Lyon, Fr.
2012, March 26th – Ceremony for the diploma of doctor of art in the Aula Leopoldina, University of Wrocław
2011-2012 – Entry in the encyclopedia "Who's Who" of Women of Success in Germany, Published by AG. Zug, Switzerland
Prof. Zdzisław Nitka
Dept. Painting and Sculpture
Academy of Fine Arts, Breslau 2011
When in March of this year I received the documentation for judging the doctoral dissertation by Mrs. Katharina Hartmann-Goldyn at our academy, the first I did was to weigh the huge box filled with thick folders and theoretic works. The weight of the documentation confirmed my curiosity and admiration of the creative diligence and pedagogic work as well as the conscientiousness the candidate used for realizing her doctorate procedure. The result was over 13,5 kg! So we see a heavy-weight – like in sports. When I was looking through Mrs. Goldyn's works page after page (pictures, drawings, objects, photos of exhibitions and vernissages etc.), I was observing not a servile, but a courageous and unbelievably honest art.
This art is predicating about its author that artistic work is joy, play and a spontaneous act of creation to him.
Get Stankiewicz once told me it wasn't good for an artist to have a so-called "ass cramp" (i.e. to be hounded). I think this accurate maxim should hang on the wall in any artist's workshop. Of course, there are different kinds of creation – it can be more or less spontaneous, precise, chiselled or deliberately cause the impression of not being accepted. There is also a dedicated, spiritual and combative art; moreover, a purely hedonistic one. Each artist is using the kind he has discovered and developed for himself. Certainly, honesty in art is important – like in blues. Once a musician said: "If you aren't honest, you don't exist from the beginning." I can assure you all that Mrs. Goldyn takes her work seriously and without this … so, denomination by Get.
I call Mrs. Goldyn's art honest and fresh, she herself calls it "utopian", since she entitled her dissertation as follows: "Utopia in Painting – Social Utopia as Inspiration in Painting".
Basically, these two definitions are lying very close together; nevertheless, Mrs. Goldyn is precising the meaning of this term "Utopia" in her theoretic doctoral dissertation. In the 16th century, Thomas More, called Morus, invented and launched the word "Utopia" – in a negative sense, i.e. as work without a purpose, as an idea that needs failure, as visionariness. In the 20th century, however, this term revived and became popular; its meaning has completely changed. Since this time, utopia has existed as maxim for artists who aspire after modern age, reject anything old and wish to leave the old things "on the other side of the river". Of course, this reminds us of the manifest "The Bridge". A hundred years ago, already, the philosopher from Breslau – Ernst Cassirer – (cited in Mrs. Goldyn's dissertation) said: "Utopia is not a portrait of real life, nor of the order of political and social reality. It exists at no moment of time and in no point of space. That is NOWHERE. Nevertheless, when modern times have developed, such sign NOWHERE has proved its power and passed the test."
Mrs. Goldyn admits that artists like Joseph Beuys, Anselm Kiefer and Francisco Clemente have had a large influence on the formation of her artistic personality – Beuys, for example, because of his social art and his constant efforts for social culture and ecological awareness. Being a dedicated artist has high priority for Mrs. Goldyn as well as for Beuys. She is teaching art, contributing to the integration of the artistic milieu, taking care of the situation of mentally ill people and criticizing politicians' behaviour. To Mrs. Goldyn, Anselm Kiefer is also a socio-critical artist – again and again, he reminds the Germans of their disreputable history. Francisco Clemente, painter of Italian "Arte Cifra", in turn made her understand what it means to pair with art – so to use unlimited liberty from acquisition of culture. She is excellently realizing the tuition of the artists loved by her, but is adding individual values and her own world – in a very personal, autobiographic, thoughtful and dreamful way, but covered aggressively with paint – with dissonances of the compositions and with dynamically used spatial elements consisting of branches, plastic toys, rubber gloves, bras and lighted bulbs. In her pictures, she mostly shows her own person or her head centrally, axially or monumentally, often as grotesque or fairy-tale picture – as a sprite or a ghost? There are also pictures with a very strong composition or sexual scenes of two abstract persons who cannot be clearly attributed to the male or female gender. That's the way Mrs. Goldyn's pictures are. Here I mention some titles: "Forest Impression" (2010), "Prayer to Goddess" (2009/2010), Cycle called "Five Wishes for Shaman" (2010), "Self-Portrait" (2009/2010) or "New Man" (2010).
I am always delighted about creations like those by Mrs. Goldyn. Her creation belongs to spontaneous art of the 20th century, to artists like Pollock, Dubuffet, Niki de Saint-Phalle, the group COBRA and Art Brut. Mrs. Goldyn is continuing those artists' opus and is almost a lonely island among a lot of trends of contemporary art – a "Good Utopia". In our times of dominating electronic sculpture or the mass figuration acc. to Tuymans, special admiration and real recognition is therefore due to painter Goldyn.
Prof. Dr. Andrzej Zdanowicz
Dean of Dept. Painting and Sculpture
Academy of Fine Arts, Poznan, Poland, 2011
Mrs. Goldyn's works are based on the experience of art of the eighties and nineties as well as early 21st century. She is using the expression of New Savages and the experience of "Artists of New-Representation" – as Grzegorz Dziamski calls artist who don't invent new forms, but use ready-made objects by unifying the artificiality of the work of art and the belief in a discovery of a new form by its use in new constellations.
Death of art, announced by critics during the sixties and seventies, actually meant death of avant-garde, when "avant-garde moved to utopia", as Mrs. Goldyn says, losing clarity of form, breaking its own limits and spreading to all spheres of life. So basically anything was able to be art, Jerzy Ludwiński said in one of his interviews.
The artist, however, who is creating in the spirit of trans-avant-garde, is deliberately using the repertoire of avant-garde means of art in her works, as for example cutting the linen, which on the one hand causes an impression of injury, and on the other hand should serve for "enlightening" by artificial working light. The method of illuminating realizations in the works of art with figures is causing an interesting philosophical effect; the light emanation is in a way expressing the figure's divinity, so the works get an even theatrical character. The Italian artist Fontana used a similar procedure. She is using the repertoire of Ready-mades by Duchamp, however she is closer to J. Beuys' philosophy, who once said (I cite acc. to the author's dissertation): "Duchamps' silence is overestimated." By the way, the owner of the title "Doctor Honoris Causa" of this university – Balthaus – made an interesting remark regarding "Duchamp" in an interview. Asked by a journalist about his opinion of Duchamp as an artist, he answered: "A very talented chess player."
To come back to the author's artistic experience in her dissertation, the liberty she is moving with in the wide repertoire of means of expression should be emphasized. In her creative method, she is using Matter Painting and Action Painting, showing its relevant property, the creative process. Continuity of creation is nearly identic with life for her. Sacrum and Profanum seem to melt into a unity. The artist here quotes as an example Jackson Pollock, who used this creative method, which interestingly hasn't found any successors in art. For how can paint be poured yet? Surrealism and Dada, however, have been continued to this day, which is also valid for Mrs. Goldyn as a reference. Her seven years' stay in solitude hasn't killed the characteristic property of her creation, spontaneity in using the repertoire of means of western European painting. It is to be supposed that it served for recharging her own batteries. The joy of perceiving the spiritual aspect of the work of art, however, is penetrating in her recent works the sea of matter. The picture "Five Wishes for Shaman", whose format is composed of small pictures, reminds us of the icon who is mostly interested in the aspect of "reality of fine life", as recently deceased Jerzy Nowosielski said.
The objects used by Mrs. Goldyn for creating her works are material things; they don't free themselves from their physicality as it was known so far, but their combination is creating quite a new sense. We find this sense somewhere in the middle of the clustered elements formed by these creations. With exorbitant power, they appear to us in their sensuality, rich colours and passion of surface structure, becoming nearly an erotic frenzy in spatial implementation as well as in the paintings – apart from those touching the meta-language of the pictures, colour is no longer a physical substance, but is alive and turning into a nearer and farther plan – the shining, weight, secret, emotional tension, fear, question, doubt and the idea etc. etc. Just here, I notice a clear continuation of tradition and a conscious creation from the experience of the 20th century. Mrs. Goldyn's artificial creation shows this relation very well by inserting elements resulting from a deep analysis of the artificial tradition of the last century into her works, however in combination with ideas for their individual application, so that she can be considered an artist who is formulating the artificial response to questions of the 21st century in her own and original way. Does this expressive creation with its wide range of artificial means of expression referring not only to motifs of numerous art epochs, but sometimes even citing them and urgently trying to express feelings, dilemmas and passions have a purpose at all? A sense?
In one of her essays, Alicja Kepińska is dealing with the relationship between art and nature. We mostly oppose these two things. However, there is a property connecting them: futility. Thus, art – whose sense we are wondering about all the time and whose sense we are trying to discover – is just like nature. Mrs. Goldyn's works have an "animal nature" and their presence is a proof for the existence of both art and nature in its futility, which in my opinion in turn is an important task they have to fulfil.
Mrs. Goldyn's works find a different answer to each question asked by her. And a different one once again. It seems to me that a natural knowledge is lying in her nature due to which she is conscious of the change of art reality and all the change of the world around us. The reality in Mrs. Goldyn's works is considering itself continuously in the mirror of art and is subject to the interpretative procedure of a glass plate.
I could write the following on Mrs. Goldyn's works, paraphrasing the words of the director of the National Museum in Posen, trying to describe the artificial creation of another representative of trans-avant-garde: "that (she) can show that referring to the measurable space of physics, the personal space which we experience between us, places and things is primary and also comprises the semantic shell of things or the expression of their matter. It is getting clear by removing the most ordinary objects from the original context of their perception, leading at the same time to their "de-banalizing" and thus to astonishment merely by their existence. It is fantastic what there is."
Referring to the motto mentioned at the beginning of the dissertation stating that the sense of an utopist's work is refusing reality and searching for an ideal, some questions are arising. What kind of ideal are we looking for? Not only the doctoral student, but also all of us. Is there such an ideal at all and does it make sense to look for it? Yet we exactly know that good art consists of the sum of mistakes, scientifically unproven theses, a series of wrong decisions and doesn't serve anything in practice. In this sense, Mrs. Goldyn's works are fulfilling all features of good art and in this sense, they are utopian or – as I would prefer to call them – near a dream.
I call the pictures with the real cacti "Biological Pictures". These cacti are real and are to live, but in a place unusual for cacti, in a scenic picture. They have found a new place of existence; they have to discover this place first, get to know the laws of this place in order to exist and create a new population. The cactus is also a symbol for phallus, but in my works not as a pleasure of sexuality, but as a biological law of fertilization and genesis of population. The cacti are protecting the protagonists in my world.
Prof. Hans-Peter-Söder
Ph.D., Time Researcher and Professor at LMU Munich
Resident Director of Wayne State University's Junior Program of the University of Munich
Mrs. Goldyn gives forest back to us, but it is not a yesterday's world. She is showing us the forest in us. It is being now. We are in this forest. Her pictures and installations are not new interpretations of romantic landscapes. She is showing us the forest as a new land to be discovered. Here, there are no carriages, no robbers, but sites which you cannot see in a city, since only in the forest, the self can find itself.
Mrs. Goldyn's forest works are not the result of walking in a park. They are the result of a forest stay which was to take seven years. In the Lower Bavarian Forest, she found the serenity which enabled her to work without disturbances. The solitude in the forest, the complete leave of everyday's life became a drug to her. The forest became an utopian site, a place between heaven and hell. It may have been this connection of heavy physical work and life in extremes which finally became the beginning of her new creation.
You can see clearly that Mrs. Goldyn has broken with classic art. She has found a new orientation in the vegetative. There is no classic geometry in her works any more. The branches, the thorns, the brushwood, the cacti, all these are the components of a new world. She is scattering earth to us and asks us to follow her into her unspent world. In the end, Mrs. Goldyn's forest is a new universe where she has created a new image of man. For her, there is no Tree of Knowledge, but only the forest itself. There, in Mrs. Goldyn's utopian space, sexuality isn't only social polarity any more. The Garden of Eden has become a different utopia for her, a wild place full of light and darkness, where man and woman live together irrecognizably and inseparably and yet melt into a unity.
With her forest, Mrs. Goldyn brings quite a new topography to us. Natural colours are now glistening as psychic colours. Here you find a red of passion, of inner experience and psychic intensity, accompanied by black shades like the dark black of her earth. The branches and the brushwood of the forest are now so extremely reduced and alienated, that only the thorns of the cacti remain. However, the many cacti are not disgusting, but by their colours and shapes attract us closer to Mrs. Goldyn's landscapes. As the brushwood makes the forest impenetrable, the cacti are protecting the protagonists in their world. The men and women remind us of ancient gods, of prehistoric symbols of creativity and fertility. The women present themselves to us with their abundant breasts on top of each other, being balanced by the multitude of male phalli. It is a dance of love of life, so that in the end, Mrs. Goldyn's forest is not a sinister place, but an original, mythological world of creativity and origin.
Especially in my latest works, two elements appear: darkness and brightness. In my fantasy, I am walking into darkness, which is dangerous and destructive and seems to be without any hope. Somewhere at the very bottom, a little light appears: hope, joy. Brightness is a little hope; without hope, man cannot live. This bright light is this little hope in my works – or maybe a loud scream to signalize that I exist.
The lights have got a symbolic meaning. They are not cheap effects to create the impression that a picture is shining like a Christmas tree. These lights are penetrating from the background of the picture outside – just like when a man's feelings suppressed in the depth of his soul get free. I would like to lead the people looking at my pictures into the world of darkness and into the world of brightness, into the world full of contradictions, full of pain and joy. These lights change the colour of the picture and the picture itself. Especially when looking at these pictures in a darker room, they get even more power. The contrast between brightness and darkness is even greater, they are even more extreme, just like my life was. I call these pictures "Night Pictures"; of course, I also have "Day Pictures". From my works, you can read a lot about my life, I am like an open book, my experiences are an archive for me I am gaining artistic strength from. My today's works are the consequence. I am not afraid of saying: "I have lived in an utopian place and therefore, my works can appear utopian." I am fully aware that you can quite understand my works only if you know my "forest story". Without knowing anything about my life, you may find my art superficial, effect-seeking, strange or ugly.
I have asked myself the question: Did nature have to create men in this way? Why do women have only two breasts and men only one genital? My thoughts are going into this direction: If some time the end of world and our civilization will come, maybe after some millions of years, a new world will emerge by a big explosion, and a new man, but "built" differently, with a different anatomy, and new laws of society. These problems appear in my latest works, which I also call the cycle "New Man". The women and men remind us of ancient gods, of prehistoric symbols of creativity and fertility. The women present themselves with their abundant breasts on top of each other, opposed by the multitude of male phalli.
I call my drawings, which I am painting mostly in bed and not in my workshop, "Bed Drawings". The bed is playing an important part, it is a place of regeneration. In this state, where the body is relaxed and preparing to dream, to the other phase, I start drawing. I permit my hand to move freely on the surface, just like dancers do on the floor. I try to switch off my rationality and fully dedicate myself to feelings and intuition. I am entering another world.